I am officially sick of winter, and ready for spring to hurry up and arrive. It snowed several days ago, and we got about six inches worth of it. Even though it was pretty (at first), I could happily have gone without it because it ended up making everything a mucky mess. Yuck! The dogs seemed to enjoy running through it that first day, however, and they were entertaining to watch when it was time to go out for a walk.
On Blogging
In the past week, I had to spend significantly more time taking care of household chores, and various additional tasks necessitated by the snow and below-freezing temperatures. As a result, I posted very little on the blog. My main accomplishment was the discussion post I put up on Monday. The question I posed sparked a lot of conversation, and I was thrilled that so many people participated in the conversation.
Posts for the week of February 2 through February 8:

February 2: Still Working on TSP (2/2/2020)
February 2: The Sunday Post (2/2/2020)
February 3: Does It Matter If You Allow Comments on Your Blog?
February 8: Stacking the Shelves (2/8/2020)
February 8: Stacking the Shelves (2/8/2020) Part Two (Because I Added More Books!)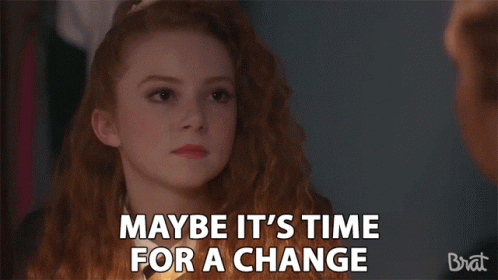 In other blogging news, I've decided to slightly change the way I do meme posts. I've always set it up so that the meme image and details about how to join in are at the top of the post, The 'read more' tag is inserted directly below.  People reading the post through the WordPress Reader are able to see the complete post, but visitors to my blog see nothing but the image and meme details until they click the 'continue reading' link.
Example:
Ugh! How boring is THAT?!
Starting with this post, I'll be doing things differently from now. The image will remain, of course, and brief information about the meme will be given in the image caption.
Example:
I think this is MUCH better, because it will allow the actual beginning of the post to be seen on main blog page, rather than the repetitive info that is peppered throughout the blog. I wish I'd thought of it ages ago! It will definitely look better, and it might entice visitors to read the full post, because they will be able to see how it begins.
On Reading
I read two books last week. I had a little trouble getting into Been There, Married That, and it definitely affected my desire to read. I liked it well enough, I suppose, but it was definitely a struggle to get through. (I'll probably knock my initial rating of 3.5 stars down to 3 stars, because I think it's a more accurate rating for my reading experience overall.) I read The Last Children of Mill Creek much quicker in comparison, and found it to be a much more enjoyable (and enlightening) read. I plan to have reviews for both books up this week.
Yesterday, I started reading The Reluctant Apostate. I've gotten through 24% of it so far. Most of that detailed the author's experiences growing up as a Jehovah's Witness, and becoming an Elder as an adult despite having doubts about the organization, and how he sought to reconcile those doubts with his faith. The next portion details the history of Jehovah's Witnesses—detailing how Charles Taze Russell became the founder of the church, and how early doctrine was formed. I'm currently reading about Russell's successor, Joseph Rutherford.
On Other Entertainment
I've watched very little television in the past week. Other than the latest episode of The Flash, the main thing I watched was the first five episodes of the sixth season of Hoarders on Hulu. (Only seasons six through ten are available for viewing on the streaming service.)
That's All Folks!
That wraps it up for this week! Until next time…